A survey conducted by Coinbase Institutional shows that institutional investor interest in bitcoin and other cryptocurrencies has not waned during the crypto winter. The interview was conducted with 140 large investors who together manage 2.6 trillion. USD assets.
Among the key findings of this survey, Coinbase found that institutional investors the percentage of investment in cryptocurrencies increased during this bearish period"Many of them are using crypto winter as an opportunity to learn and build for the future," he notes. message.
Despite the volatility, the main motivation for investing in cryptocurrencies is to get a differentiated return. "Many of the investors consulted are looking to add these innovative technology assets to their portfolios," the study said.
A long-term perspective
Coinbase investigated the differences in participants' investment plans and found that 62% of those who invest in cryptocurrencies have increased their position in the last 12 months. Only 12% of those already investing in digital assets reduced their investment percentage over the same period.
Looking to the future, 58% of investors plan to increase their investments in cryptocurrencies in the next three years. An important point in the long term is that 59% of investors are using or planning to use the scheme buy and holdor buy and hold.
Price expectations in the short and medium term
While sentiment remains positive about developments in the cryptocurrency market, the crypto winter has dampened short-term expectations. 54% of investors believe that prices will remain in a limited range, while 12% believe that prices may fall in the next 12 months.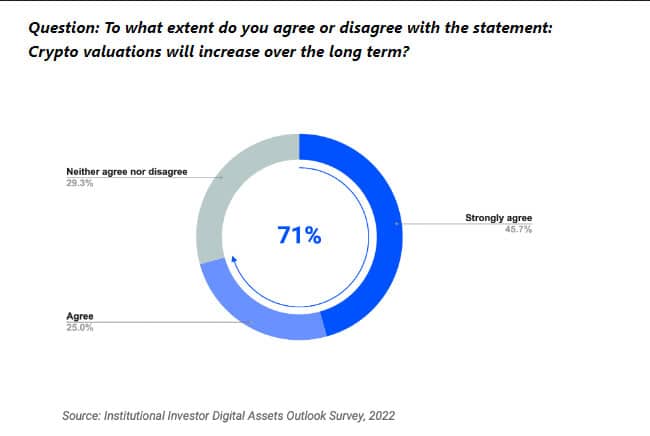 Nevertheless, the long-term outlook for prices looks positive, with 71% of respondents saying they expect digital asset valuations to rise over the coming months or years.
Reasons to invest in cryptocurrencies
The Coinbase survey also shows this The reasons for investing in cryptocurrency and the approach to this asset class are evolving. Among the main reasons for investing in this asset class, investors cited the goal of improving the financing situation, taking advantage of profitability opportunities, investing in innovative technologies and long-term appreciation potential.
This departs from previous research, which found low correlation with other asset classes, as well as protection against inflation, as more important factors when considering institutional investment in bitcoin.
Source: news.google.com