NotiHash is CryptoNoticias Bitcoin Mining Newsletter. It is published on our website every week. Today, Thursday, 2022 on December 15th, is the 39th edition published with 767,530 blocks.
---
Compared to the bear markets of 2018 and 2020, not yet eligible to be labeled the worst (at least if we analyze according to the duration of these crisis periods).
However, many companies with high operating costs and debt suffer from the consequences that turn into the disappearance of capital accumulated during periods of peak profitability.
Let's not forget that in 2020 Bitcoin miners experienced one of the most profitable periods in recent years. If the bear market continues, we may face the worst moment in Bitcoin mining history.
Bitcoin hashrate is recovering
Average hashrate: 256 EH/s (week)
Maximum hash rate reached: 273 EH/s (week)
Difficulty: 34.25 billion (trillion)
The difficulty level network fell more than 7% last week. Biggest Downward Adjustment Since 2021 July. As we discussed in the previous NotiHash, this factor and the current rise in the price of bitcoin (BTC) in the markets seems to be encouraging miners again.
This situation leads to increase in appetiteprobably because a lot of computers have come back online in the last few days.
It is believed that Bitcoin mining difficulty increases by more than 5% if the current level of miner participation is maintained.
Bitcoin mining reward
Miners daily earnings range: 14.76 to 19.50 million. USD (week)
Total reward for Bitcoin miners: 921.7 BTC or 16.3 million. USD (144 block average for December 14-15)
Average reward per transaction: 0.0029905 or $52.91 (average of 144 blocks on December 14-15)
Reward paid per transaction: 0.00000709 BTC or $1.25 (average of 144 blocks on December 14-15)
Source: Mempool.space i.e Brian
Compared to last week, the total reward received by Bitcoin miners has increased. If expressed in US dollars, this increase would be equivalent to 1 million USD per day. This fact is related to the price of bitcoin (BTC), which exceeded $17,000 during the week.
If we take into account the size of the average commission paid by users of the network, it is realized that it has decreased when calculating in bitcoins (BTC). However, if you look at the total numbers earned by the miners, you can see that the reward for the miners has increased.
In fact, December 14 19.5 million were registered in one day, the maximum reached since the beginning of November. This happened just as the price of bitcoin almost reaching $18,000.
Bitcoin price and value
Price with bag: $0.067/TH/day
Hashvalue: 376 set/TH/day
hash price, an indicator that Bitcoin miners use to measure the profitability of their operations. remains above the $0.060/TH/day mark for several weeks. The rebound in Bitcoin price since December 6 has a positive effect on this value. However, this is still far from ideal values.
By definition, a hashrprice is a value assigned to a unit of calculation used in Bitcoin mining. It is expressed as profit in dollars (USD) for each terahash that mining equipment contributes to the network in a one-day period.
In turn, the hashvalue is the value that is obtained when the same calculation is performed based on BTC.
If we compare the current values ​​of hashrpice and hashvalue with those of other bear markets, we can see that the profits have decreased significantly. However, unlike other periods, this bear market is not yet that long.
Ethereum Merger Implications for Bitcoin Mining
The Data Always study analyzes Consequences of Ethereum mining suspension for Bitcoin miningduring a interesting hypothesis.
What could be the future of Bitcoin mining in Cuba?
Various Bitcoin Miners talk about your experience with this activity in Cuba, CriptoNoticias will report. There is no doubt that this is an activity that is a tough challenge for those who choose this adventure.
A factor that could increase Bitcoin mining in Venezuela
During a conference in Monaghan, Venezuela, CryptoNoticias had exclusive access to a company that search underground ideal conditions for the development of mining in the country.
They tested this high-end Bitcoin miner
The Bitcoin mining pool with the highest hashrate has tested one of the most efficient high-end miners in the industry. CryptoNews highlighted the most prominent figures about your findings in the article.
Bitcoin miners face regulatory hurdles
"Create a political infrastructure" that is positive for Bitcoin miners, industry players should follow a specific strategy, according to the specialist. Satoshi Action Fund CEO suggests the key to favorable legislation and circumvent attacks by anti-Bitcoin organizations.
Picture of the week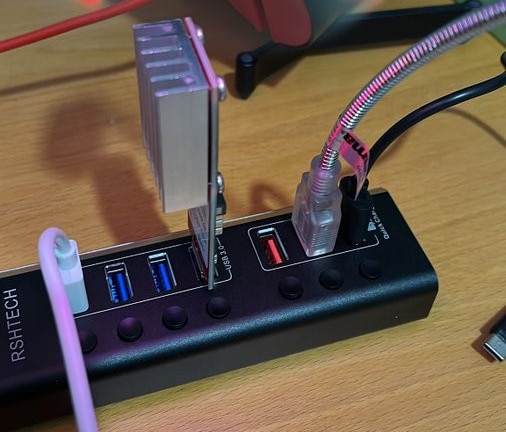 Bitcoin miners find solutions in different mining models. This is proven by the fact that they are still in use computers with USB supportas we have seen recently On Twitter. This equipment is called CompacF 350 GHz. It doesn't have the power of regular ASIC miners, but they mine Bitcoin. Those who use it claim that it allows solo mining. The price is 200 EUR and 350 GH/s power. It consumes 15 watts and has an efficiency of 23 GH/watt.
Learn more about Bitcoin mining in our Cryptopedia

Source: news.google.com