Basic facts:
The discount of the GBTC fund is 53% below the underlying value of the shares.

Grayscale's bitcoin fund is the 'jewel in the crown', says Cathy Wood.
Due to the liquidity crisis that caused the collapse of the FTX exchange, the world's largest bitcoin (BTC) fund, Grayscale's GBTC, registered an increase in the discount it had already experienced compared to the base value of BTC. its shares.
But for fund managers, Digital Currency Group (DCG), GBTC fund reported this year more than 200 million USD, subject to a stipulated 2% annual commission charge to investors.
Action by GBTC it is quoted, priced at $8.12 at the time of writing. But if it is valued at its net asset value (NAV), the 0.0009140 BTC each share represents, is should cost $15.38.
This means GBTC shares are trading 52.7% below value. According to figures provided by Grayscale, the stock's discount was 35.76% at the beginning of November.
The graph shows that from 2021 GBTC shares became less than the underlying BTC value of each share. Chart shows GBTC discount data up to November 5th.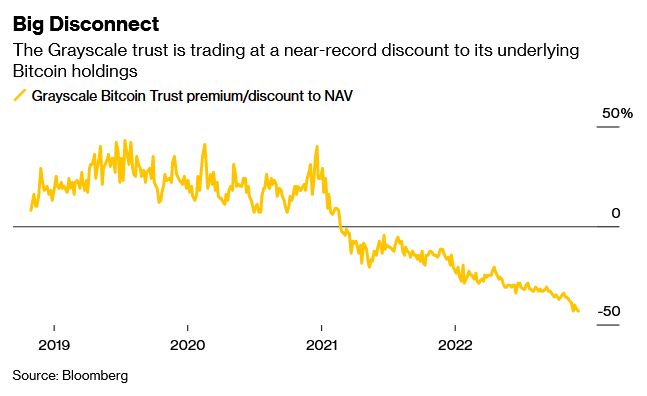 Benefits of GBTC for its administrators
The existence of the GBTC fund discount is not new, as it began to manifest itself in early 2021. The discount was partly due to restrictions on shareholders. Grayscale does not supply them with the BTC underlying each share, but they must sell their shares or part of them at the market price.
A possible liquidation of the fund could mean the return of BTC per share to shareholders. Nevertheless, this solution is unlikely to be suggested or supported by grayscale. To Cathie Wood, GBTC, CEO of Ark Invest a representative "Grey Golden Goose".
With a combined value of $10.7 billion, or nearly 3% of the total bitcoin supply, the bitcoin pool represents a large influx of grayscale capital. This is due to the 2% commission charged to investors.
Source: news.google.com