ARD media library
On the way to a shared work of art: Improvisational comedy Kranitz is back – better than ever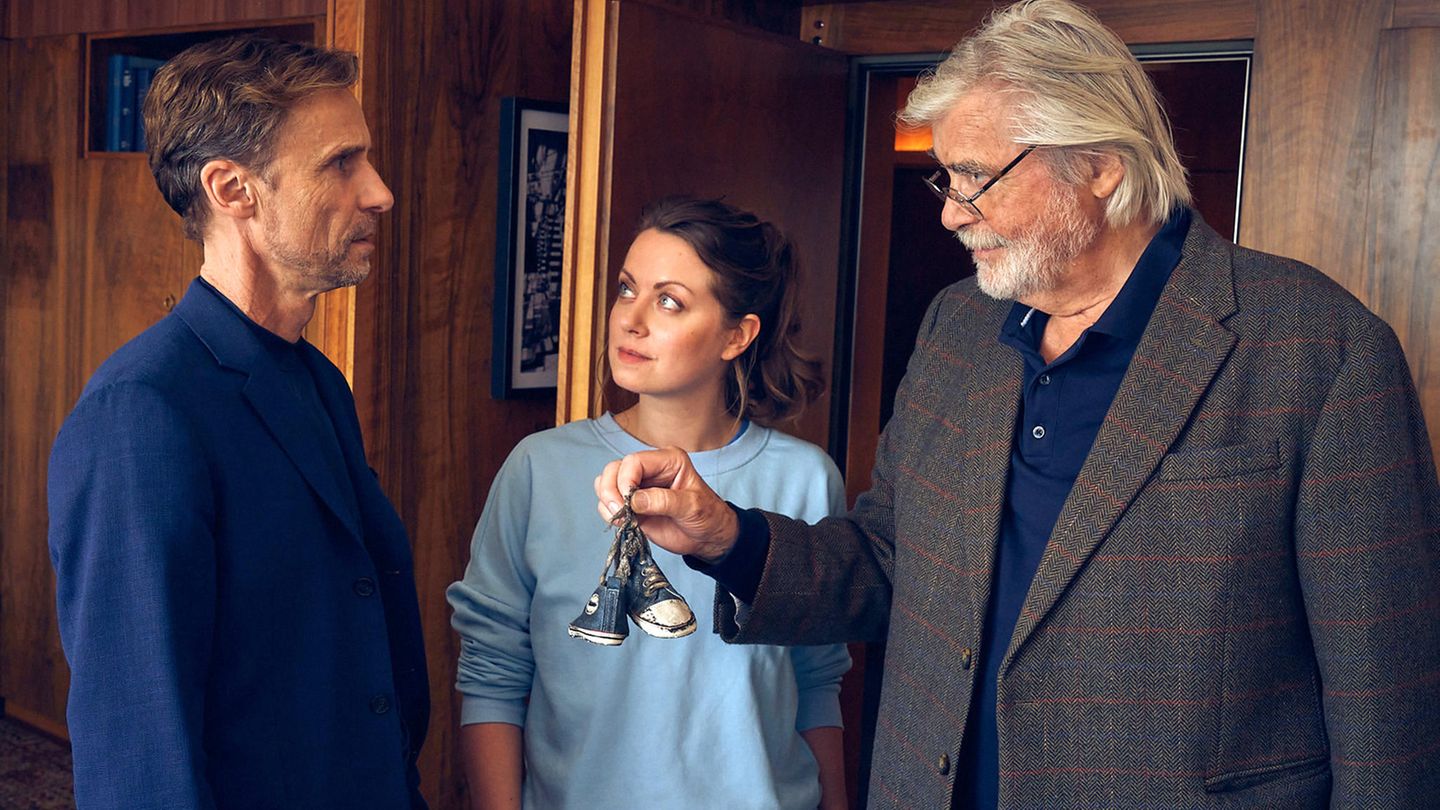 Spontaneous yet cleverly conceived: In the second season of the improvisational comedy, couples therapist Klaus Kranitz has to deal with his father, among other things. With the new episodes, Jan Georg Schütte has achieved a minor miracle.
Last time Lothar Kranitz (Peter Simonischek) was definitely in Vienna – the city of Sigmund Freud. This is what a famous bonobo researcher says while lying on the sofa in regretful therapy practice. What makes the constellation especially savory: the therapist the aging man confesses to is his own son. Klaus Kranitzwho demands a hefty sum of 1,500 euros for three sessions – but returns the money in case of failure.
In the first season of the comedy series, this did not happen: with cunning and knowledge of human nature, the unconventional therapist was able to reconcile even the most quarreling couples.
Kranitz is played by Jan Georg Schütte, who is also responsible for writing and directing the new season (from 25 November on the ARD Mediatheque). Schütte stayed true to his favorite way of working: there are clearly conceived characters and plots, but the dialogue is improvised. Because a filmmaker doesn't like to hear "paper crunching" on TV, as he dem stern once said.
Jan Georg Schütte loves improvisation

Using this method, the 59-year-old has already delivered great moments on German television and received numerous awards for it. Among other things, he produced the film "Wellness for Couples", as well as the series "Forever Summer 90" and "Funeral". The latter featured contract killer Ivan Meierle (Aleksandars Jovanović), who now also appeared in Kranitz. Apparently it works gutters connecting the gems he created into an artistic universe.
This broad approach can also be seen in the new season: each episode deals with the couple's relationship, but parallel to it is an overarching storyline in which the friend Manni (Bjarne Mädel), already known from the first season, plays an important role. At the same time, viewers learn more about the past of the character of the series.
"Kranitz – refund in case of separation"
Traffic jams, gang bangs and mating bonobos: that's what the second season of the improvisational comedy is all about
But anyone who fears that Schütte might be content with preserving and piecing together what he's achieved so far can rest easy: the director still manages to bring in new actors for his demanding improvisational work. This time, Peter Simonischek, Alice Dwyer and Edin Hasanović, among others, shine with spontaneous playing.
Kranitz – Breakup Refunds provide first class entertainment

And although Jan Georg Schütte on December 6 is celebrating his 60th birthday, he will retire soon. Because he really wants to work with Nora Tschirner, just like him stern issued They have already canceled four times. He will continue to ask her.
From the audience's point of view, there are good reasons why the director continues Series and making movies: just fun to watch. Because without all the references to Freud or other works of Schütte's artistic cosmos, the new season of Kranitz is primarily one thing: great entertainment. Can I have more please!
Four episodes of the new season of "Kranitz – Money Back if You Divorce" will be broadcast on NDR on Wednesday, November 30. (10:30 p.m.). All episodes are now available starting November 25 ARD media library