Protein diet
Lose weight without losing muscle – this diet makes it work
Summer shape is made in winter: now is the best time to get your body in shape for swimwear season. Crash diets, where you only take in very few calories a day, are absolutely taboo on the way to your desired weight. You may lose a lot of weight in a short period of time, but it's not primarily fat tissue, it's water – and muscle mass. In addition, your body accumulates more fat reserves in order to be better prepared for the next lack of food – better known as the yo-yo effect. Therefore, starvation will never lead to the hoped-for success in losing weight. The solution: Go on a protein diet.
What you have to consider and which ones high protein foods should end up on your plate every day, we'll tell you here.
How does the protein diet work?
First off, don't let the term "diet" fool you. Strictly speaking, the protein diet is not one in the narrower sense, but rather a long-term change in diet after the Low-Carb-Prinzip. You don't just want to get rid of your belly fat in the short term. Therefore, the protein diet is based on the consumption of plenty of protein and few carbohydrates.
Of course, our weight loss combination of nutrition and training plan also relies on plenty of proteins. Many protein-rich recipes await you in it:
Your training and nutrition plan
Training and nutrition plan
Weight loss combo for beginners in 8 weeks
Training and nutrition plan
maximum effective and sustainable
all 29 exercises as picture and video
only dumbbells needed
30 simple, delicious weight loss recipes
Premium offer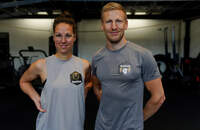 Book personal coaching!
Do you want to build muscle or get fitter all over? Our top trainers will write you one customized Training and/or nutrition plan.
Already a customer? Then log in here a.
After successful payment you will receive an email with a download link. If you have any questions, send a message to [email protected].
With the protein diet you don't have to be afraid of the yo-yo effect. Because the great thing is that you will definitely not go hungry here. There is no strict calorie limit, you don't have to weigh every meal or count calories. But now to the details: Why is a protein diet useful at all?
Quite simply: Protein is a…