19. May 2022
After successful results with the new innovative recyclable PerfoTec film with a higher water and carbon dioxide permeability, it is becoming a new standard in the tubular bag market set up. The company mentioned that for other vegetables such as baby leaf lettuce, iceberg lettuce and mixed lettuce, the film properties will be slightly optimized. This development is ongoing.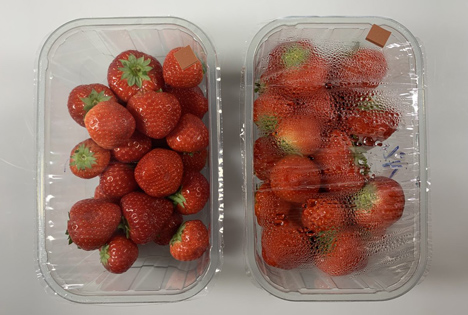 The new innovative recyclable film. Photo © PerfoTec
The use of this new recyclable film for top-seal solutions is also being studied.
Condensation in the skins is more difficult with European strawberries as they are more delicate and soft. That is why PerfoTec is testing its new film with European strawberries.
PerfoTec is proud of the results and has therefore already presented this preview! "We have packed strawberries with a regular top seal film and our new, transparent, innovative recyclable film. The difference is huge! Our solution outperforms clamshell and other top-seal films, and once again we believe we will set a new standard for berries," the company said in a news release.
The test showed that strawberries packed with the new innovative PerfoTec Top-Seal film stay dry without the water dripping inside the package, even at room temperature. The PerfoTec film properties have a great effect on mold prevention and weight loss due to lack of moisture.
"The commercial phase is within reach as we are still optimizing film properties to improve machinability. The solution to pack the berries with micro-perforated top-seal packaging is a handshake away.
Additional Information:
PerfoTec
Tel: +31 (0)297 25 55 54
Email: [email protected]
https://perfotec.com
Quelle: PerfoTec
Release date: 05/19/2022