An IT group in Cupertino, California has once again proven its technology leadership. All types of the new iPhone 14 model series have a satellite-supported emergency call function. It was first activated in the US in November, and has also been available to users in Germany, France, England and Ireland since mid-December. More countries will be added gradually.
Emergency Call SOS is a text message feature that is sent directly to rescue control centers or forwarded to Apple-trained support professionals.
Special edition of the publisher
It was previously unclear whether the service also extended to the sea. And while Apple doesn't provide any specific information about the coverage of common marine areas via the satellite service, a YACHT representative confirmed at least limited that sailors can rely on the new safety feature.
"Emergency SOS via satellite operates in coastal waters where rescue services operate."
Nevertheless, he limited: "In international waters, emergency SOS via satellite is not currently available." Such reluctance seems understandable. Especially when starting to provide a service that is critical in an emergency situation, the manufacturer does not want to expose himself to promises that could lead to liability if there is any doubt.
At least technically, satellite communication has a much greater range. Apple's Emergency SOS is based on the Globalstar network, which does not cover the polar regions but covers about 80 percent of the world — including almost all of the North and Baltic Seas, much of the Mediterranean Sea and parts of the North Atlantic.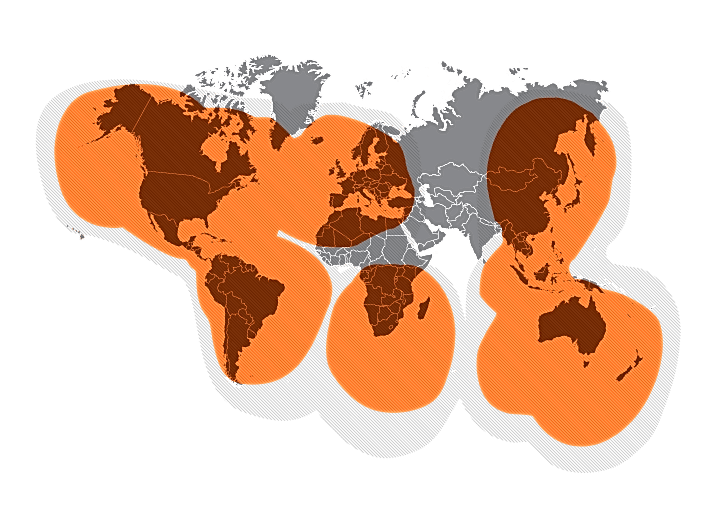 Globalstar satellite network coverage around the world (orange: good connection, gray: limited reception)
YACHTA will carry out range tests as soon as possible. But even if the feature is initially limited to coastal areas, the iPhone 14 could help at least partially fill the gaps in cellular networks that can sometimes be significant at sea.
"Emergency SOS makes satellite emergency communication more accessible, which is very exciting," said Gary Machado, head of the European Association of Emergency Numbers. "In practical terms, this means that many more people can call 112 if they don't have a mobile phone service and need emergency help." We are confident that this will save many lives and greatly assist the emergency services in what are often very complex operations.
This is how an SOS emergency call via satellite works
Activation is easy: just press and hold the power button and the volume down button. Alternatively, you can quickly press the power button five times. iPhone 14 then helps the user set up a satellite connection through an easy-to-use interface if cellular service is unavailable.
A few quick questions provide a few taps of the finger to provide critical information that is sent in the first message to dispatchers so they can quickly understand the situation and the user's location. iPhone then graphically shows users where to point the device to connect. This is important because Globalstar satellites orbit the earth at high speeds and are therefore not always easily accessible. If the connection is established, an emergency call is sent automatically.
This message provides answers to questions about the location, the number of injuries, as well as information about the location, the iPhone's battery status, and the emergency card, if it is saved. Like downstream messages, they are relayed directly to switching centers via satellite. The transcript can also be forwarded to users' emergency contacts to keep them updated, but this requires an iPhone running iOS 16.1 or later and using iMessage.
Apple has developed proprietary components and software that allow the iPhone 14 to capture Globalstar satellite frequencies without the need for a large antenna. In addition, a text compression algorithm was programmed to reduce the average size of messages by a third to make transmission as fast as possible.
Demo mode to practice the emergency call function
With SOS via satellite, messages can be sent or received in as little as 15 seconds in good conditions…