In an unusual move by Telegram, operators want to know from users whether (and if so, under what circumstances) user data should be handed over to German authorities, the Federal Criminal Police Service (BKA). For that purpose, a survey was launched, which will be held until September 5.
In general, Telegram offers users three options:
Option 1: According to court orders, Telegram is allowed to share IP addresses and phone numbers of terror suspects. This should mirror the previous procedure.
Option 2: Telegram can also disclose the IP addresses and phone numbers of people suspected of serious crimes at the request of law enforcement authorities without a court order. This should require an amendment to the data protection declaration.
Option 3: Telegram does not disclose any data at all. Telegram wants to achieve this by changing its data structure.
According to Telegram, the survey is only for users registered with a German phone number. According to herself, the messaging service is interested in opinions. Currently, about 1.4 million people participated in it. users. Therefore, option 1 is preferred with 40%, while option 3 is second with 35%.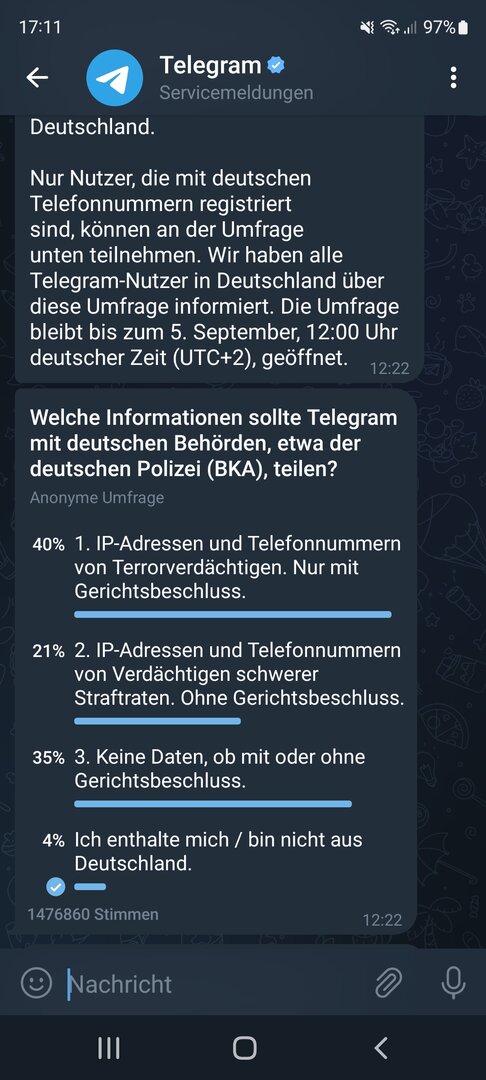 But the question is what value such a survey should have. Therefore, it is received with wonder and amazement. For example, former Pirate Party member Christopher Lauer describes Telegram's questioning whether the service must comply with German law as "interesting" on Twitter.
An interesting poll by Telegram (so interesting that they ask their users if they should comply with current German law). pic.twitter.com/QJwss0F8OS

— Christopher Lauer (@Schmidtlepp) in 2022 August 30
address Netzpolitik.org you also look helpless. Telegram has yet to respond to the request.
Telegram was heavily criticized
The telegram is standing was heavily criticized for some time. This service is considered one of the main platforms of conspiracy ideologues and right-wing extremists. The respective channels have long benefited from the fact that Telegram operators have hardly deleted, if at all. Illegal content also remained on the platform.
The operators hardly cooperated with the state actors, and the German authorities were also affected. But when they increased the pressure, Telegram changed its strategy. In February, some conspiracy ideologies and right-wing extremists channels are blocked.