When in 2021 November 3 Peter H. has died, journalists across Europe are mourning his death. "Rest in peace", tweets Jože Biščak, who until recently was the editor-in-chief of the Slovenian magazine Democracy was. As a founder of a multilingual website Our Central Europe Peter H., with the help of media partners, made sure that the "truth about Slovenia" reached "millions" of people in Europe.
Until his death, Peter H's name hardly appeared in public. Only obituaries in various European media revealed how busy the 67-year-old Austrian was: Visegrad post office from Hungary praises H. as an "Austrian patriot": He is "an important pillar of our partner's editorial Our Central Europe", a discreet man who "worked a lot in the shadow of the Rams". Spanish journalist Álvaro Peñas also reports an emotional article Spanish Posthow much he owes H.: He included him in the European Media Cooperation project. He could interview AfD or FPÖ politicians and publish these interviews in several languages.
Around more than 25 conservative or right-wing extremist websites Our Central Europe
CORRECTIV.Faktencheck's research shows that "European Media Cooperation" probably includes more than 25 sites ranging from conservative to far-right – and has links to several right-wing parties. For example, it is called a partner Compact magazinewhich is monitored by Germany's Office for the Protection of the Constitution and considered "safely extremist" and a right-wing US think tank. Gatestone Institute.
Media cooperation is based on a simple principle: Our Central Europe takes over and translates her reports and helps them – and herself – achieve greater international success. This is how the site spreads Misinformation and hate speech – and get exclusive interviews with well-known right-wing politicians such as Austrian FPÖ politician Herbert Kickl or AfD Bundestag member Petr Bystron.
"It doesn't matter what country you're from, the fight is the same!"
Spaniard Álvaro Peñas is enthusiastic about the idea of ​​media collaboration: "More and more media companies are working together in this way," he says in one. Interview. "It doesn't matter what country you're from, the fight is the same!"
The basis of this collaboration is a website known for misinformation Our Central Europe. Their slogan: "United forces for Homeland Europe". Peter H. apparently started the site in 2016. with friends from Hungary. The Austrian has remained in the background all his life, but you believe in longevity Green politician Karl Öllinger, Austrian blog Stop right operates, H. stood "with both feet in the swamp of the right-wing extremist environment". It is suspected that he was in contact with various neo-Nazis. in 2021 At the beginning of the year, he was tried in Vienna together with four members of the neo-Nazi organization Europäische Aktion. He was the only one acquitted of the charge of planning a violent coup – he provided IT services. More on that later.
Some time later, Peter H. passed away. The network he helped create before his death continues.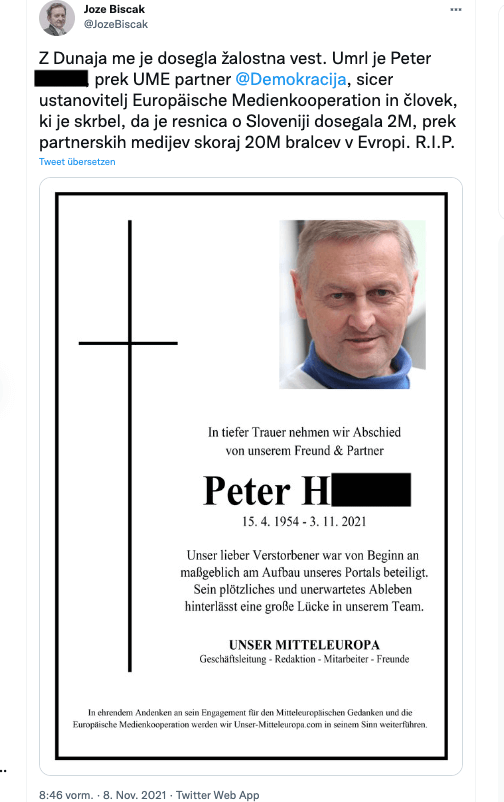 Our Central Europe has taken over 700 articles from other media since the beginning of 2021
What role did Peter H. play in the day-to-day business of the newsroom before his death Our Central Europe played unclearly. Our press request has left the portal unanswered. The website is searched in vain for an obituary or even Peter H.'s name. Only the obituary, which, among others, Jože Biščak from Democracy The text shared on Twitter includes editorial greetings. If you believe the claims of Álvaro Peñas in the obituary, H. contacted him with the idea of ​​media cooperation in 2020. in November.
The partners of "European Media Cooperation" are represented according to their own statements "patriotic values". But to the outside world, they look very different – for example, conservative, pro-government Hungarian newspapers such as Hungarian nation. According to our research, the first article that mentions cooperation with the media appeared in 2021. February 14 Our Central Europe: a to comment owner of the German language Budapest newspaper, Jan Mainka. In it he criticizes…