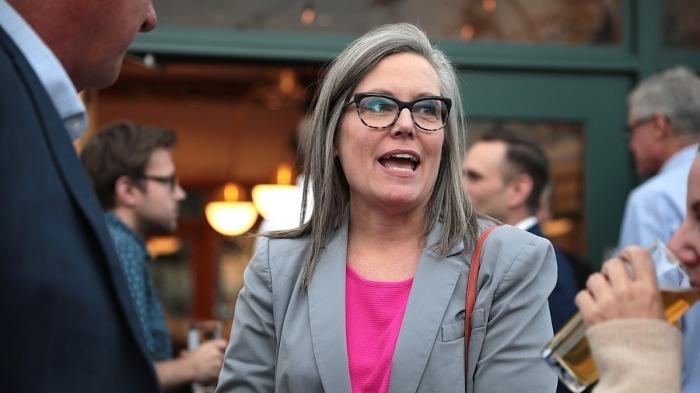 The race between Biden and Trump was decided two years ago in Arizona. Now, there will also be decisions on key positions in the congressional elections in November and the presidential election in 2024. Message.
Journalist Johannes Streeck travels for Telepolis through the US. Ahead of the important US congressional elections in November, he reports from a torn country, about the election campaigns and about what Americans are burning under their fingernails. The reports also describe the impact of inequality and the climate crisis on the world's most powerful nation.
Tucson, USA – It's a little after 12:30 in downtown Tucson, Arizona. A small group of reporters and television crews stand in a loose semicircle around the stand where Katie Hobbs has just begun her speech. Hobbs is the Democratic candidate for governor of Arizona. That day, she appears alongside Chris Mayes, who is running for attorney general, also a Democrat. A small press conference will be held in the lobby of the Pima County Superior Court. The location was not chosen by chance.
"I am shocked and angry at the verdict of this court," says Hobbes, pointing to the glass facade of the impressive building. It's been exactly two weeks since Judge Kellie Johnson upheld a law that criminalized abortion throughout Arizona. The regulation is more than 150 years old, dating back to when Arizona was still a US "territory" rather than a separate state. It's a law "from an era when women didn't even have the right to vote," recalls Hobbs, a Democrat.
Judge Johnson's decision is particularly shocking in Arizona, which is not one of the ultra-conservative states in the American South, which was forced to restrict abortion rights after a Supreme Court ruling this summer. Arizona is a so-called "swing state" whose voters were largely responsible for the Democratic victory in the last presidential election. But Biden won by just 10,000 votes in a state of more than seven million people.
In some regions of the United States, political forces are at odds with each other, as in Arizona. All of the Republican candidates running for office in the state's Nov. 8 election have admitted to a conspiracy theory that the 2020 presidential election will be held. the election was rigged. "The Big Lie" held up particularly well in Arizona, probably because votes were still being counted here when the results were already clear elsewhere.
Kari Lake is Katie Hobbs' challenger for state governor. Lake, a former television journalist who has long been a registered Democrat, is often mentioned as a possible successor to Donald Trump. With a relatively small campaign fund and no significant support from her own party, Lake was able to eliminate her much more moderate opponents in the primary.
Lake is also committed to the conspiratorial wing of the GOP (Grand Old Party), and does not shy away from being close to right-wing extremists or Q-Anon conspiracy theorists. Lake welcomes the fact that Judge Kellie Johnson single-handedly ruled abortion illegal. She recently called people who terminate pregnancies "murderers" and "hangers".
More is at stake in Arizona right now than the political future of this fast-growing Southwestern state. With Mark Finchem, the Republican Party has landed a candidate for "Secretary of State" in Arizona, a hybrid of Interior Secretary and Deputy Governor who is considered particularly strong in Stop the Steal activist circles: Inside.
If Finchem wins against Democrat Adrian Fontes in November, it will likely also mean that the next presidential election will be counted under his watch. It would have the same powers that…