(Motorsport-Total.com) – Where there's smoke, there's usually fire: they roll over from Brazil Mattia Binotto's days as Ferrari team principal are rumored to be numbered can be. Frederic Vasseur is said to be a possible successor; others have mentioned Ferrari GT boss Antonella Coletta as a serious contender.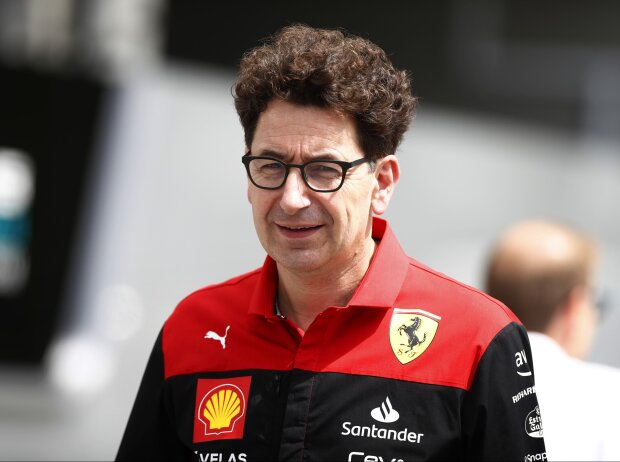 Ferrari team principal Mattia Binotto is firmly in the saddle, according to a team statement
Increase
One person is largely overlooked: Andreas Seidl. From FerrariChairman John Elkann contacted the McLaren team boss a few weeks ago to ask if he could consider a move to Maranello.
However, according to Motorsport-Total.com, Elkann's No. 1 candidate has been withdrawn. Among other things, because he does not consider his job of returning McLaren to the top of Formula 1 done.
Ferrari recently said in a statement that the rumors "regarding the position of Ferrari team boss Mattia Binotto are unfounded." But insiders wonder why Elkann contacted Seidl and Vasseur.
It's an open secret that after various bankruptcies, setbacks and breakdowns, Ferrari is on fire for the 2022 season. Clearly, at least internally, the question is whether Binotto is the right man for the future.
Ferrari: The most improved team in 2022
But that's only half the truth. The truth also includes: "Somehow we always forget how big a step we've made from last year to this year," Charles Leclerc intones his (still?) bass. "Yes, we definitely have to go one step further. But I'm sure we can do it."
Although the Binotto rumors were specifically addressed at the FIA ​​press conference on Thursday, Leclerc has avoided making any binding statements. He doesn't really have anything to say on the subject, he says, adding: "I think we shouldn't draw too much attention to it."
A toxic relationship between Vasseur and Todt Jr?
Leclerc's role in Ferrari personnel speculation is special. On the one hand, he has an old acquaintance with Vasseur: in 2016 he won the Formula 3 title for his ART team, and in 2018 made his first Formula 1 season under Vasseur as team boss at Sauber.
However: At ART, Vasseur and Leclerc's manager, Nicholas Todt, were business partners. Vasseur managed the sports side, Todt the commercial side. The two are said to have split up in an argument.
Leclerc: "There are always rumours"
Leclerc puts the speculation into perspective: "In Formula 1, especially Ferrari, there are always rumours. At the end of the season we are almost always talked about. But as a team we have to focus on our work on the track and try to make the things that go around disappear. ".
---
Revealed: Ferrari looking for new F1 boss!
Fred Vasseur is rumored to replace Mattia Binotto as Ferrari team boss. Scuderia asked Andreas Seidl first! More Formula 1 videos
Binotto has not been in Brazil recently. This is nothing unusual per se. Mercedes team principal Toto Wolff also missed the São Paulo Grand Prix. But behind closed doors, there are rumors that his position in the team has been scratched. Big scratches, some say.
Leclerc talks about the "main claims" in the media without specifically denying them. He says: "It's just rumours. It's unpleasant for the team to have to read things like that. So I'm glad the team has issued a statement. Now we can focus 100 per cent on last race weekend again."
Leclerc, of course, won't get into the debate about which team boss he wants – at least not publicly. "I think," he says simply, "that stability pays off." Looks like he'd rather stay at Binotto than move to Vasseur…