Oleg Chernysh, Diana Kuryshko
BBC News Ukraine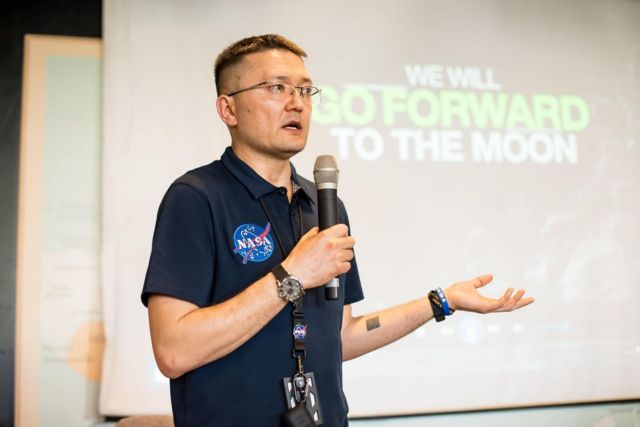 NASA (the US National Space Agency) responded to the BBC's inquiry as to whether Ukrainian writer Dorzh Batu worked for them. Last week, blogger Viktor Tregubov accused him of false facts in his biography, especially related to his work at NASA.
Batu himself first tried to justify himself on social networks, and then deleted all comments on this issue.
Ukrainian writer Dorzh Batu (real name Andriy Vasiliev) of Buryat-Mongolian origin has publicly stated that he works as a NASA trajectory correction operator. The same information was indicated in his most famous book "Franceska. Mistress of trajectories" in the annotation. It was published by Old Lion Publishing House (VSL) in 2018 and immediately became a hit on the Ukrainian literary market.
In the book "Francesca", Batu described his daily life as an operator in the center for adjusting the trajectories of space objects. Allegedly, this work was carried out by NASA on the territory of a US National Guard military base.
The novel was based on Dorž's Facebook posts. The main character was his partner named Francesca, who was also involved in calculating the trajectories of space satellites.
Although Dorje Batu's books were classified as fiction rather than documentary, the author's knowledge of space topics, as well as his statements in the media about his involvement in NASA activities, were not questioned and served as confirmation of his competence.
Until December of this year
The essence of the accusations
On December 7, Ukrainian blogger, one of the leaders of the "Democratic Ax" party, and now an officer of the Armed Forces of Ukraine, Viktor Tregubov, wrote a post-exposition about the writer Andrii Vasiliev.
As follows from it correspondencehe communicated with Vasiliev for some time and asked him to provide proof of employment at NASA or a photo of the head of the US National Guard military base where he allegedly worked.
According to Tregubov, the writer did not provide convincing evidence, and later blocked the interviewer on social networks.
Allegedly, through his contacts, the Ukrainian blogger was able to obtain information that proves the fakeness of Dorzh Batu's "biography".
"What can I say for sure. Andriy Vasiliev, who calls himself Dorzh Bat, never worked at NASA and in the space industry in general, nor was he associated with the US National Guard. And this is logical, because in this field he could hardly… .