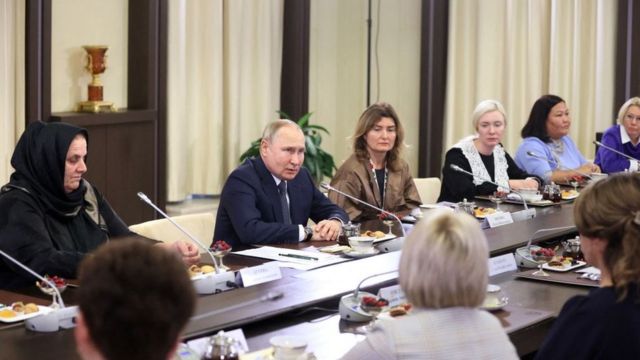 On Friday, November 25, Russian President Vladimir Putin met with the mothers of Russian soldiers participating in the war with Ukraine. However, far from everyone who wanted to get to the meeting with Putin.
The so-called "Council of Mothers and Wives," which included some military relatives, said only "pocket mothers" were invited to the meeting.
In October, relatives of the mobilized Russians – mostly their wives and mothers – began filming appeals to the Russian authorities to provide their loved ones with everything they need and to take them away from the front line, where some are suspected to have been sent without proper training and equipment.
Relatives of the mobilized interviewed by the BBC, who had previously recorded such appeals, reported that they were also not invited to the meeting.
"Everything comes from family"
Putin met with mothers of soldiers at his residence near Moscow in Novo-Ogaryovo. A video released by the Kremlin press service shows 17 women sitting at the table with the president.
It was previously announced that the event is dedicated to Mother's Day, which this year is celebrated in Russia on November 27.
Putin said he "perfectly understands" that soldiers' mothers "are not in a festive mood".
"I want you to know that I personally and the entire leadership of the country share this pain," he said.
"Everything comes from the family," Putin said. "And the fact that your boys, most of them, have chosen such a destiny as serving the motherland, protecting the motherland, protecting the motherland, Russia, protecting our people, in this case. In Novorossiya, Donbass is also your the result of the work, without a doubt."
According to the President of the Russian Federation, the Russian leadership will "do everything" so that the mothers of the fallen soldiers "do not feel forgotten."
"We will do everything in our power [ви] felt a shoulder next to them," V. Putin promised, without explaining exactly what support measures he was talking about.
He also warned about "fraud" and "information attacks" that he believes are common on the Internet: "Life is more complex and diverse than it appears on the screens. […]. And especially on the Internet – you can't trust anyone there, there are a lot of forgeries, deception, lies, information attacks."
The state agency RIA Novosti published a seven-minute video of Putin's speech. At the end of the video, he said that he himself called the Russian soldiers.
"When I talk to them sometimes… I talk to some of them on the phone, directly, with the boys directly. In any case, I talked with those who even surprised me with their mood, their attitude to this matter," Putin said. , "They didn't wait. These calls, by the way, were also through my mother. [Це] gives me every opportunity to talk about what they…