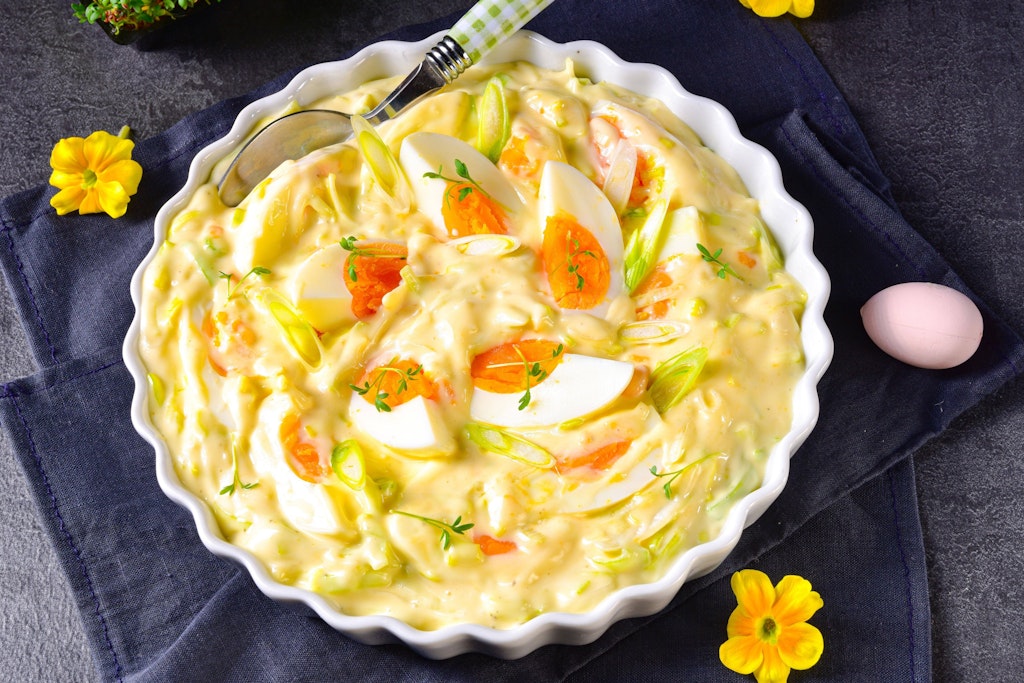 When it comes to side dishes for the barbecue, many people swear by pasta or potato salad. But layered lettuce is also a real trend! Here, as the name suggests, the ingredients are layered in a large salad bowl… And it all gets mixed up at the end. A completely different variation is the 7-cup salad. Have you ever heard of this? Here's the super easy recipe that's guaranteed to please the whole family.
Also read: Ingeniously simple recipe for mousse on chocolate: this is how the sweet dessert is guaranteed to succeed >>
The trick: The ingredients are measured here by cups – this results in the perfect composition for the salad in the end.
The whole family will love this recipe!
The basic recipe includes eggs, ham and potatoes, but the ingredients can of course be varied as desired. Here, as is so often the case: Anything that tastes good is allowed! In the end, with the last cup, an incredibly creamy salad is created that is second to none.
Also read: Brilliant recipe: Try this delicious tuna cream – SO easy and quick to make!
Also exciting: Due to the simple dimensions, the ingredients can be varied. Prepared with large coffee cups, the amount given here is enough for about four servings. For a barbecue evening with friends, however, the quantities can simply be doubled or even tripled thanks to the cup measure.
Also read: The "quick Italian" to take home: Pizza toast with ham and mushrooms – here's the recipe! >>
The ingredients for the 7-cup salad
You will need: 1 cup boiled, diced potatoes, 1 cup boiled ham, diced, 1 cup boiled and diced eggs, 1 cup peeled, cored, and diced apples, 1 cup cucumber, peeled and diced, 1 cup diced onion, and 1 cup salad mayonnaise. Also salt, pepper and some paprika powder.
Also read: Brilliant recipe for a Mediterranean casserole: You've never eaten better pork fillet >>
The 7-cup salad: Here's how to make it the easy way
And this is how it works: Boil the potatoes, drain, peel and dice. Measure out a cup and place in a large bowl. Boil the eggs very hard, peel and dice, also measure out a cup and add to the potatoes. Dice the remaining ingredients into small cubes and measure out a cup each, add to the salad. Then spread the mayonnaise on top and mix well. Season with salt and pepper, cover and place in the fridge for a few hours.
Also read: Simple cheese salad like in the GDR: This is how the recipe from the past is guaranteed to work! >>
This is important because the lettuce must be well drained. Then remove, stir again, season if necessary. If you like, you can now refine the salad with fresh herbs, such as some chopped parsley or chives. The mixture goes perfectly with grilled meat, but also with a mini schnitzel with a hearty evening meal. Enjoy your meal!