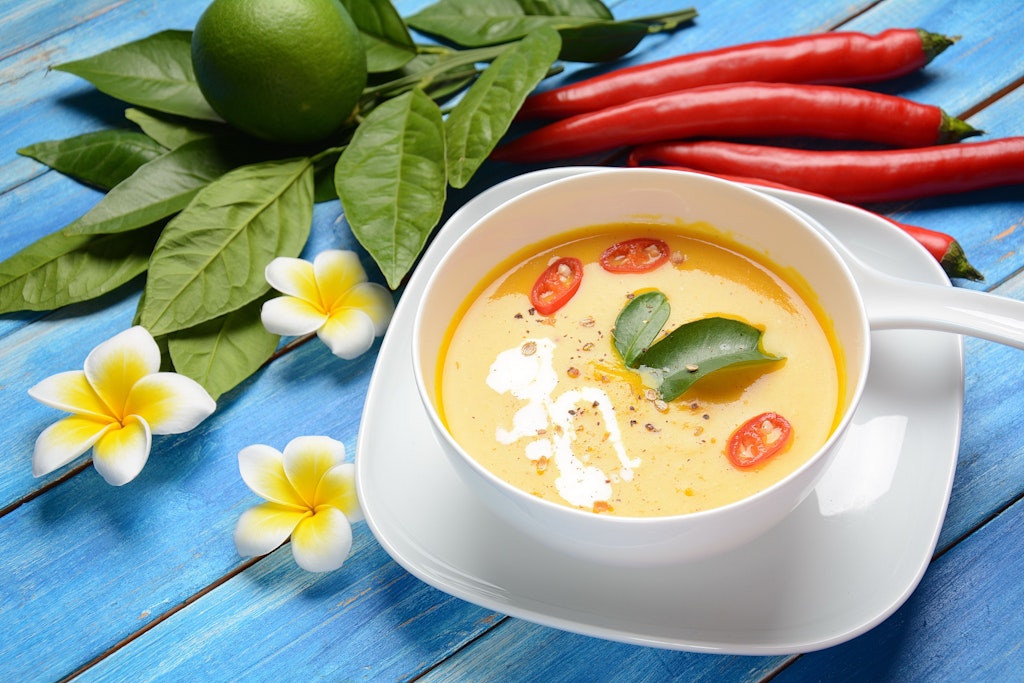 Die autumn time seam – pumpkin time! With Hokkaido, Butternut and Co. you can prepare many delicious dishes. The absolute pumpkin classic is certainly the pumpkin soup.
Also read: Delicious and hearty: Recipe for a delicious pan with Schupfnudeln and cabbage! This spicy dish is the perfect dinner >>
You can also vary the pumpkin soup deliciously – with potatoes or carrots it becomes nice and creamy, with coconut milk it gets an Asian touch. We have a creamy pumpkin soup recipe for you with a slight kick of spiciness. Give it a try, you will love this pumpkin soup!
Also try: Great recipe for hearty zucchini meatballs with a fine cheese filling – very tasty and easy to make >>
For 4 servings of pumpkin soup you need: 1 kilo pumpkin (the Hokkaido is particularly suitable), 1 shallot, piece of fresh ginger, about the size of a thumb, 1 red chili pepper, 1 sprig of rosemary, 2 sprigs of thyme, 30 grams of butter, 500 milliliters of vegetable stock, 150 milliliters of white wine, 150 milliliters of cream, 2 teaspoons lemon juice, salt and pepper, herb ball or coffee filter bag and twine
And this is how you prepare the pumpkin soup: Cut the pumpkin open, remove the seeds and thinly slice off the skin. Cut the flesh into pieces. Peel and finely dice the shallot and ginger. Wash, cut open, deseed and chop the chili pepper. (It helps to wear kitchen gloves to prevent the chili heat from sticking to your fingers.)
Also try: Great recipe for juicy cherry cake with crunchy almond crumble. So delicious and so fluffy – thanks to the buttermilk trick >>
Heat the butter in a large saucepan and sauté the diced shallots. Add pumpkin, chili pepper and ginger and sauté briefly. Deglaze with the vegetable stock and the wine and bring everything to a boil. Then turn down the heat.
Place the herbs in a spice ball, hang in the broth and let simmer. If you don't have a spice ball, you can also use a filter bag for coffee, into which you put the herbs and tie the bag with a thread.
Also try: Plum cake with a difference: Why not bake a plum semolina cake! It's easy to do with this delicious recipe >>
After a quarter of an hour, remove the herb bag from the pot and puree the soup. Stir in the cream and bring everything to a boil again. Season with salt, pepper and lemon juice. Froth the soup with the hand blender.
Divide the pumpkin soup into four soup plates or soup bowls. It looks pretty if you put a dollop of crème fraîche on top and draw a pattern with a chopstick. The crème fraîche makes the soup even tastier. Add a few drops of pumpkin seed oil and serve!
Also read: This recipe is insane! Do you already know potato goulash? You lie down in this hearty stew… >>