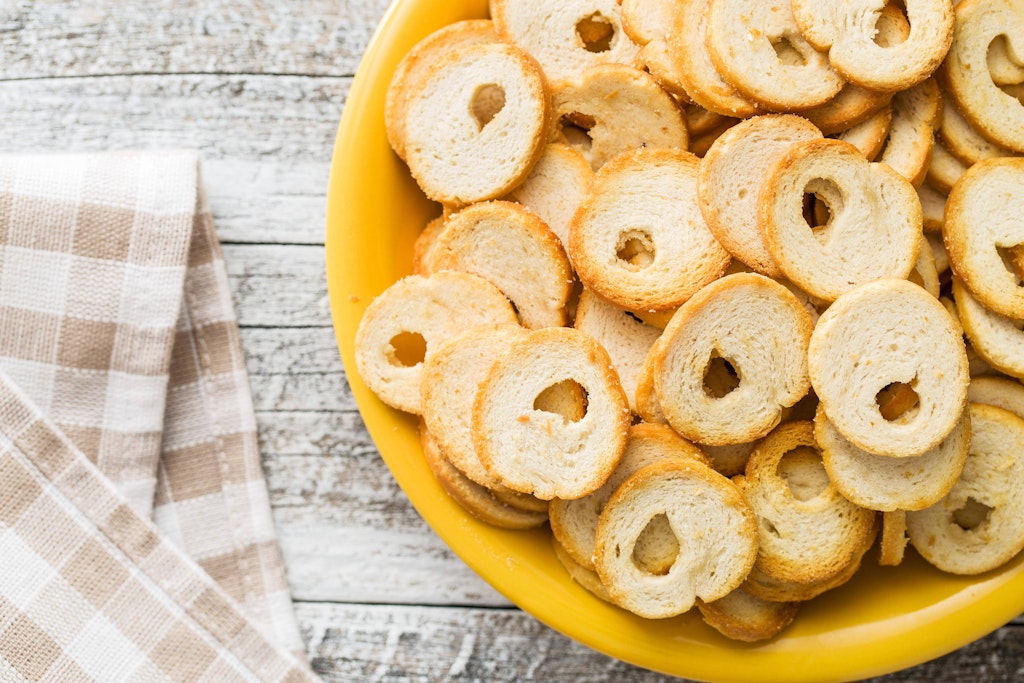 When it comes to planning a barbecue evening, it is also important to think about the side dishes with the meat. In most households, meat or sausages are served with pasta or potato salad … but if you grill more often, you need variety! So here is a recipe that you are guaranteed not to know: Have you ever made a delicious tomato salad with bread chips? It's flavorful, crispy – the perfect side dish.
Everyone knows them, the round bread chips that are available in bags in every supermarket. They have a lock in the middle – and they come in a wide variety of flavors.
Also read: Meatballs, meatballs, meatballs: with this secret ingredient they will be as juicy as grandma made! >>
How do you make salad from bread chips? Here comes the recipe
Would you have thought that you can make a delicious salad out of it? In combination with tomatoes, onions and spices, the chips become a salad that just crunches. Try it out – here comes the absolutely simple, but still ingenious recipe.
Ingredients for delicious bread chips salad
You will need: 50 milliliters of olive oil, 2 tablespoons of white wine vinegar, 2 red onions, a few sprigs of basil, salt, pepper, a pinch of sugar, 7 tomatoes, half a pack of bread chips
Here's how it works: Peel the onions and chop them into small cubes. Wash the tomatoes well and cut into fine cubes. Drain a little so they are not completely soaked and place in a mixing bowl along with the onions. Wash the basil, shake dry and chop finely. Add to the tomato and onion mixture. Salt and pepper everything.
Also read: Easy, quick, and incredibly healthy, Roasted Garlic Broccoli is the perfect dinner! >>
In a separate bowl, whisk together the oil and white wine vinegar. Add some salt and pepper and a pinch of sugar. Then add the dressing to the tomatoes. Finally, coarsely crumble the bread chips and add to the salad.
The bread chips must not be too fine for the salad
Important: They should remain coarse and chunky, not too fine. And: The salad should be served immediately afterwards, otherwise they will become too soggy. So: It is best to prepare the tomato mixture and mix the bread under it just before serving.
Also read about this now: So delicious on bread: garlic butter recipe! With these instructions you can conjure up the spread – And this is how you make garlic bread >>
Tip: The taste of the salad can be varied with the flavor of the bread chips. After all, they are available in different variants – salted with herbs or even with a garlic aroma. Anything that tastes good is allowed! Good Appetite …
Try it now: Brilliant BBQ Recipe: Do you know the 7-cup salad? There are many delicious things in this recipe – And it's so quick to make >>