A pizza strudel is a hearty puff pastry that can be prepared quickly and varied as desired. We will show you a simple basic recipe and give you tips for (vegan) variants.
The basic recipe for pizza strudel is very similar to that for classic pizza: the basic ingredients are the same and like the pizza, the strudel is also baked in the oven. Instead of yeast dough, use puff pastry, which you fold in the middle to form a dumpling before baking. The finished pizza strudel is easier to transport than a conventional pizza and is well suited, for example, as a souvenir to a party or a picnic.
You can fill your pizza strudel according to your personal preferences. Here we present you a recipe with peppers and olives. However, you can use other ingredients for the filling instead. When making your selection, it is best to base your selection on the regional and seasonal range of vegetables. You can find out which types of vegetables are currently in season in Germany in our seasonal calendar check.
You should also attach importance to organic quality, especially with dairy products such as cheese. This is how you support companies that more species-appropriate animal husbandry operate than is usual in conventional agriculture. It is also best to buy plant-based ingredients with an organic seal if you want to avoid harmful residues. In organic farming, for example, chemical-synthetic pesticides are prohibited. The seals of stand for particularly strict guidelines Demeter, organic land or natural land.
Pizza strudel with peppers: quick recipe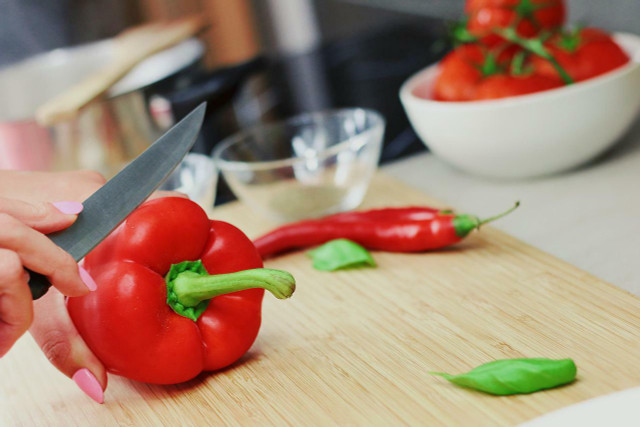 Pizza strudel with peppers
Preparation: approx. 20 minutes
Cooking/baking time: approx. 30 minutes
Crowd: 4 Portion(s)
Ingredients:
300 g




puff pastry

10 HE




Tomato sauce




Salt




Pfeffer




basil (dried)




Oregano, getrocknet

1




red bell pepper

2 toe(s)




garlic

60 g




black olives

50 g




grated cheese (e.g. mozzarella)
preparation
Grease a baking tray with some cooking oil or line it with parchment paper. Spread the puff pastry out on the baking sheet.

Tipp: Like you Make your own puff pastry we will show you in another recipe. If you have enough time, this variant is a good way to save on packaging and avoid unnecessary additives. If you are in a hurry, you can also use ready-made puff pastry to prepare the pizza strudel. It is then best to use a product of organic quality.

Put the tomato sauce on the puff pastry and spread it evenly. Season with salt, pepper, basil, oregano or other Mediterranean herbs of your choice.

Wash and deseed the peppers. Cut them into small pieces or cubes. Peel the garlic and finely chop it. Slice the olives.

Scatter the peppers, garlic, and olives over the puff pastry. Sprinkle evenly with grated cheese.

Now carefully fold the puff pastry in half and press the edges together.

Brush the pizza strudel with water. Then bake it in the oven at 200 degrees top/bottom heat for about 30 minutes until it has turned golden brown.
Modify pizza strudel (vegan).
You can vary the pizza strudel in many ways by replacing or adding ingredients:
for one vegane Variante of the strudel dough you can refer to our recipe for vegan puff pastry orientate. If you're using store-bought puff pastry, make sure it doesn't contain butter or other animal products. You simply leave out the cheese or replace it with vegan cheesewhich is suitable for gratinating.
When it comes to the filling, the possible variations are as varied as with the toppings of a conventional pizza. For example, try diced zucchini or Auberginespinach, corn, cherry tomatoes, small florets of broccoli, onion rings or capers out.
You can also add new flavors to the pizza strudel by varying the spices. In addition to other Italian spices such as rosemary or Thymian are also suitable, for example Herbs of Provence. For extra spiciness, you can season the strudel with chili flakes or chili powder or top it with chopped peppers.
Read more on Utopia.de:
** marked with ** or orange underlined Some links to sources of supply are affiliate links: If you buy here, you actively support Utopia.de, because we then receive a small part of the proceeds from the sale. More info.
Do you like this post?
Thank you for your vote!