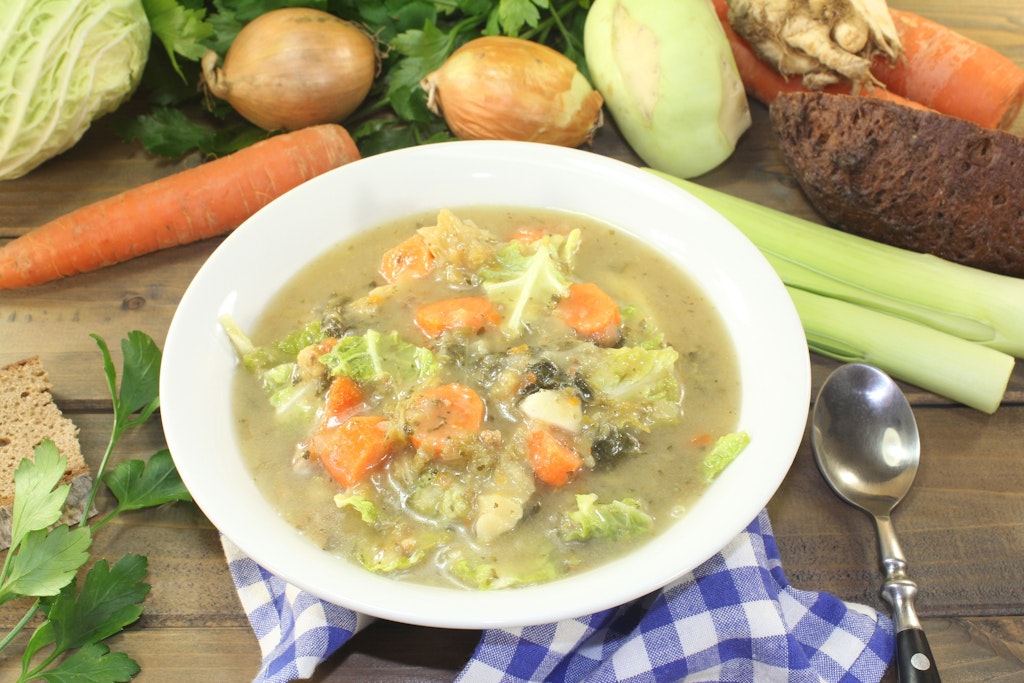 Fall and winter are stew season. A hearty dish from the soup tureen warms the stomach – and the soul. We found this savoy stew in grandma's recipe book. It really tastes like cold outside and delicious inside. Just like before. Add this ingenious trick with the apples… delicious.
Try our soul warmer meal. Worth it!
Also read: Grandma's savoy casserole with minced meat and potatoes – the ingeniously simple recipe! >>
Savoy cabbage stew with pork and apples – the recipe
You need that
750 grams of pork neck, 2 medium-sized onions, 500 grams of carrots, 1 medium-sized savoy cabbage, 2 tablespoons of oil, 1 tablespoon of curry powder (medium hot), 1 liter of vegetable stock, 4 apples (e.g. Cox Orange), salt and pepper
This is how it's done
Cut the meat into large and not too small cubes. Peel the onions and cut them not too finely into rings.
Clean and wash the carrots thoroughly. Then cut them into rough slices – choose the thickness according to your taste (grandma used them as thick as a finger).
Clean the savoy cabbage, quarter it and remove the stalk and the thick veins of the leaves. Then cut the cabbage into rough strips.
Also read: According to grandma's recipe: Stuffed savoy cabbage with minced meat and a spicy sauce – a deliciously brilliant autumn treat! >>
Put some oil in a large saucepan and heat it up. Then put the meat in it and sear it vigorously on all sides. Then add the onion rings, which you also fry until translucent. Now add the carrots and savoy cabbage to the pot while stirring constantly. Roast briefly again.
Then deglaze with the broth and let the stew boil. Add a good pinch of salt. Then reduce the heat, put a lid on the pot and let the stew simmer gently for about 30 minutes. Don't forget to stir occasionally.
Meanwhile, wash, peel, quarter and core the apples. Also cut the apples into rather large pieces.
After 30 minutes of simmering, add the apples to the stew and let everything simmer again for half an hour. Then season the stew well with salt, pepper and curry powder.
The dish tastes best warmed up. It is best to serve this with some wholemeal bread. We wish you bon appetit!