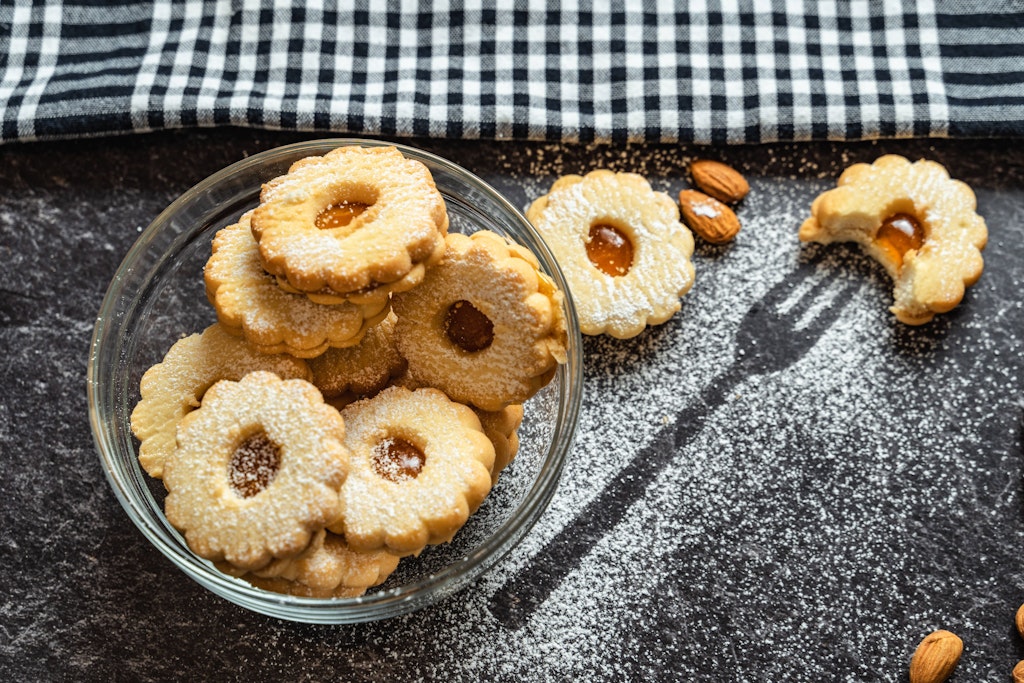 Now it's beginning again, the time of Christmas baking. During Advent, many families bake cookies. And as in the children's song classic, a huge mess is allowed.
Many have their traditional recipes for Christmas cookies, but how about expanding your repertoire this year with a delicious treat from Austria: Linzer cookies or Linzer eyes are a specialty of our southern neighbors. The great thing about this cookie variant: They cannot get dry at all. Feel free to try it!
Also read: Brilliant recipe for cookie balls: you shouldn't miss out on this Christmas treat >>
Linzer biscuits – the recipe
You need that
300 grams of flour, 90 grams of powdered sugar, 1 pinch of salt, 200 grams of butter, 1 egg yolk, 1 pinch of cinnamon, 1 packet of vanilla sugar, 1 pinch of powdered cloves
Ingredients for sprinkling and filling:
80 grams of icing sugar, 150 grams of apricot or strawberry jam
Also read: Recipe for the simplest cookies in the world: conjure up coconut macaroons in no time with just two ingredients >>
This is how it's done
First knead the flour, sugar, butter, salt, egg yolk and vanilla sugar into a fine, smooth dough. It is best to use a food processor with a dough hook. Then add cinnamon and clove powder and knead the dough vigorously again.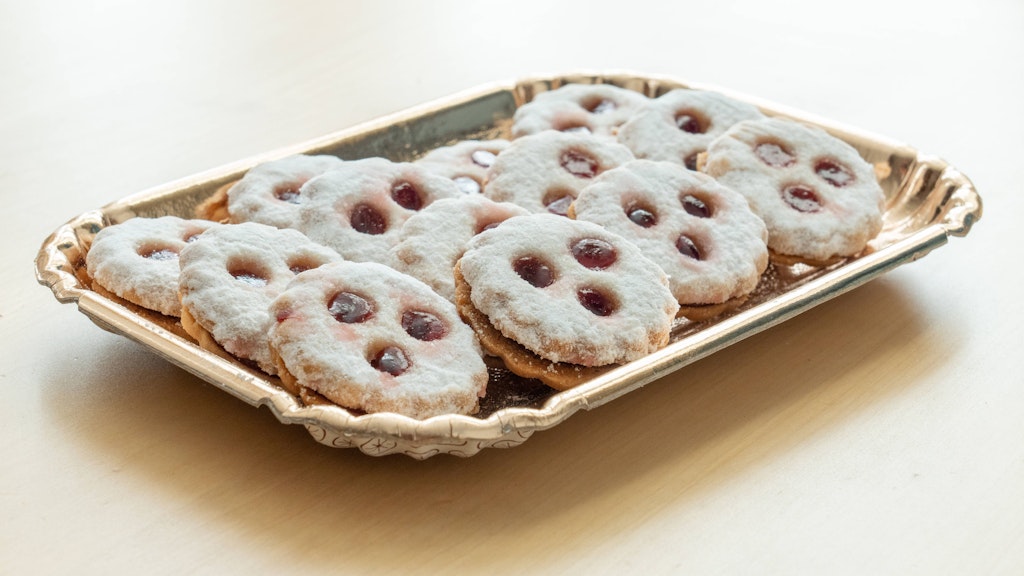 Then wrap the dough in cling film and put it in the fridge for at least 3 hours. Then knead the chilled dough again.
Dust a work surface with flour and roll out the dough until it is about 1 to 2 millimeters thick. Now cut out individual biscuits with any shape. If you use different motifs, you have to cut out each one twice.
Place the cut out pieces of dough close together on a baking tray lined with baking paper.
For every second piece of dough, cut out a small mini motif in the middle of the biscuit. In our photos it is a large circle or several small circles. Knead, roll out and cut out the dough again and again until there is nothing left.
Then the biscuits go into the preheated oven. Bake them there for 6 to 8 minutes at 160 degrees top and bottom heat until they are golden yellow.
Then let the cookies cool down. Then put the jam on all biscuits without a mini motif, i.e. half. It is best to use a paper piping bag for this, as this is the best way to apply the jam thinly.
Generously sprinkle the biscuits with the mini motif with powdered sugar and then place them on top of the jam biscuits. Press lightly, done!
Enjoy your meal!