Incredibly tasty!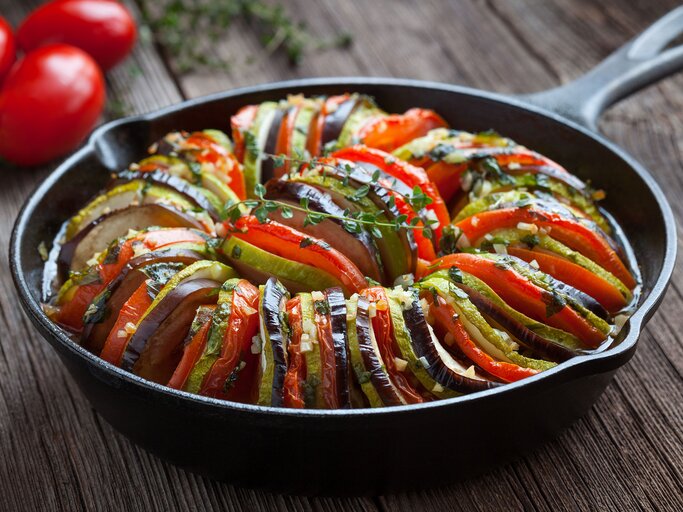 Mediterranean pleasure: spicy potpourri with lots of vegetables
© iStock | GreenArtPhotography
Fruity vegetables, Mediterranean herbs, capers, olives and anchovy fillets make this spicy vegetable gratin a delicious dish – as a side dish or as a main course.
For 4 people:
4 tablespoons pitted black olives

3-4 cloves of garlic

4-6 sprigs of thyme

4-6 stalks of savory

2 tsp fennel seeds

7 tablespoons olive oil plus a little olive oil for greasing

2-3 small courgettes (total 500 g)

7-8 tomatoes (total 600 g)

1-2 aubergines (total 500 g)

3 red onions

Salt

Freshly ground black pepper

8 tbsp vegetable broth
These secret ingredients make the vegetable gratin perfect:
Rinse the anchovy fillets well, chop finely and place in a bowl. Drain the olives and capers, chop finely and add to the anchovies. Peel the garlic cloves, chop finely and add them as well. Wash herbs and shake dry. Pluck off the leaves, chop finely, add to the anchovy mixture along with the fennel seeds and mix everything together.

Preheat the oven to 200 °C top/bottom heat or 180 °C for circulating air. Grease a large casserole dish with a little olive oil.

Clean, wash and thinly slice the courgettes, tomatoes and aubergines. Peel the onions and cut into fine slices.

Layer the vegetable slices alternately in an upright position, sprinkle the layers with the anchovy and herb mixture, season with salt and pepper and layer in the bay leaves. Mix the olive oil with the vegetable broth and pour over the vegetables.

Cook in the preheated oven for about 60 minutes until the vegetables are tender and well browned.