Message from 05/18/2022


By Helmi Tischler-Venter
The lentils are rich in protein and tasty, and together with vegetables and herbs they are quickly combined to make a tasty spring salad. If the two types of lentils are cooked separately, they retain their colors. Vegetables and a poached egg complete the dish.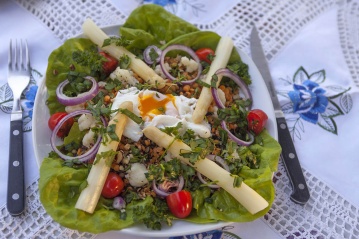 Dierdorf. Ingredients per person:
40 grams of black lentils
40 grams of red lentils
Crunchy vegetable broth from the glass
Red onion
120 grams of cauliflower florets
40 grams of chopped hazelnuts
4 cherry tomatoes
4 spears of asparagus
lettuce

2 Stngel Thymian
chives

Zucker
Salt

Pfeffer
Balsamic-Essig
Olivenl
1 No.
Preparation:
First wash the black lentils and boil them in 200 milliliters of water with a teaspoon of vegetable stock. They need about 20 minutes until they are soft. The red lentils are already cooked after about ten minutes, so they are later brought to the boil with water and bouillon powder. The cooking water should be absorbed by the end of the cooking time, if it evaporates too quickly, add a little more water.
Cook the cauliflower florets in a little salted water until al dente. Chop the hazelnuts and roast in an uncoated pan until golden. Peel the asparagus and cook in a little water with a pinch of salt and sugar. Cut the onion into thin rings. Wash the thyme and chives and drain on kitchen paper. Mix a teaspoon of balsamic vinegar with a teaspoon of oil and a pinch each of salt and sugar. Clean, wash and drain the lettuce. Arrange lettuce leaves on a plate.
Mix the black and red lentils and place on the lettuce leaves. Scatter the cauliflower florets, hazelnut sauce, asparagus and onion rings on top. Strip off the thyme leaves and cut the garlic into small pieces. Sprinkle both herbs over the lentils. Drizzle the vinaigrette over the vegetables.
Bring 200 milliliters of water to a boil with a tablespoon of vinegar. As soon as the broth boils, it is turned quickly with a spoon. Crack an egg on the edge of the pan and let it slip into the liquid. As this rotates, the egg white wraps around the yolk. After about four minutes of cooking, the egg white is firm and the yolk is still runny. Make a dent in the center of the lentils and place the poached egg inside. Season with salt and pepper. (htv)
Good Appetite
If you have a delicious recipe for us, please send it to [email protected] Please write your own text and at least one photo of your own. Thanks very much!
---
More on this:
Westerwald recipes
Become a fan of the NR-Kurier.de local edition Dierdorf on Facebook!